Fun and Festive Origami Stars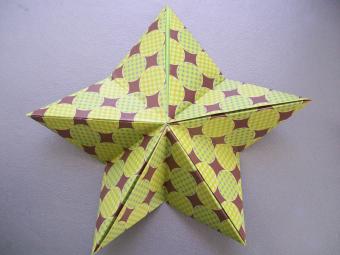 Origami stars make fun and festive decorations for your home. Whether you're planning a birthday party or getting ready for Christmas, stars are a lovely addition to your décor. Folding stars takes a bit of practice, but the results are well worth your time.
Step 1
To begin making origami stars, you'll need five identical sheets of paper. Fold the first sheet in half, then fold in half again to make a small square. Open the paper up, with the patterned side face down.
Step 2
Fold all of the corners into the center of the paper. Unfold the top left corner and the bottom right corner.
Step 5
Connect the first folded piece to the second piece by inserting the creased corner of the second sheet into the triangle slot of the first sheet.
Step 7
Repeat until all pieces are joined together. If you're having trouble getting the pieces to stay in place, try using a bit of glue or tape to hold them together.
Step 8
Adjust the folds as necessary to create your origami stars. Make more great origami decorations for your home with origami hearts.