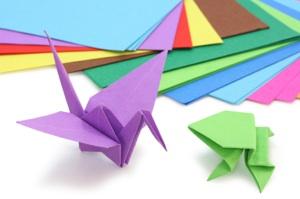 Fortunately for hobbyists and master-folders alike, origami paper discounts are rather easy to come by. In fact, it may be difficult to find a more economical craft. No other supplies are needed: just a square piece of paper and your paper-folding skills.
Types of Origami Paper
To start folding, all you need is paper -- preferably origami paper. Discounts and value packs make it easy to acquire bundles of "squares" to work and practice with. As for the types of origami paper available, here are the main ones:
Kami: This is the most inexpensive and common type of paper. Its name simply means "paper" in Japanese and it typically has only one side printed on; the other side is left blank. It comes in solids and patterns.
Duo paper: This paper is printed on both sides and is usually found in specialty stores. Its weight is the same as kami.
Foil paper: On one side of the paper, a thin piece of aluminum foil is bonded, creating a shimmery, foil surface. On the other side, the paper is left blank. This paper takes creases very well, but it's not as "natural" looking as regular origami paper since the folds are difficult to see. It does work well with ornaments.
Washi: Traditional Japanese paper made from plant fiber. The most widely made type is kozogami, made from the mulberry tree. To this day, the paper is still handmade in parts of Japan, though machines have taken over most of the production. Washi is heavier than kami paper and is also quite expensive.
Chiyogami: Chiyogami is a type of washi paper featuring woodblock-printed designs depicting Japanese imagery. Its name means "thousand generation paper" and dates back to the Edo Period. It is popular with origami folders due to its visual presentation and reasonable cost.
Big/tiny paper: The standard size of origami paper is 6" square. Big and tiny papers offer sizes on either end of the median. Big papers are typically 9" square or larger, while tiny papers are 3" square (used for greeting cards or invitations).
Animal prints: Made especially for origami animals, such as giraffe dots, elephant gray, and tortoise squares.
Most origami models work from a single square. However, complex models, like the tetrahedra, may require multiple sheets.
Origami Paper Discounts: Where to Buy
These days, most all craft stores carry origami paper. Michaels Crafts for instance has a nice selection of kami, foil and tiny papers imported by the AITOH Company. For specialty papers however, try a store that sells only paper crafts. These retailers are likely to have all the papers you need, in addition to some surprises like circular paper, rectangular paper, and origami kits.
For origami paper discounts, consider kits. These include diagrams, plus a good starter stack of papers. As anyone will tell you, origami takes a good deal of practice. In the beginning, you'll want to get as many papers as possible to cover any failed attempts. Eventually, you can graduate to specialty papers, like handmade washi or screen-printed chiyogami.
Go Online
The Internet is a great resource for finding origami paper, as it bridges distances created by geography. Though there are a number of retailers selling imported papers, they may not be within driving distance. If not, go online. Here are a few picks to get started:
Amazon.com: You'll find practically any type of origami paper you're looking for at this online marketplace including various colors, prints and textures. You'll also find papers in different sizes.
MisterArt.com: Daily discounts on all art products, including origami paper by AITOH, Global Art, and Yasutomo. VIP pricing available for savings club members.
Any-Gami?
While prices may vary when it comes to origami paper, the craft itself is a very affordable one. Consider that, with a single package of kami, you get 100 sheets for less than $.05 per paper, a bargain that's hard to beat. Even the more expensive papers are reasonable, averaging about $.35 per sheet.What's more, origami really only requires a square sheet of paper. When you think of it like this, origami paper is everywhere, in the form of computer paper, construction paper, junk mail, etc.