Origami Flowers for Cards
Make Origami Flowers for Cards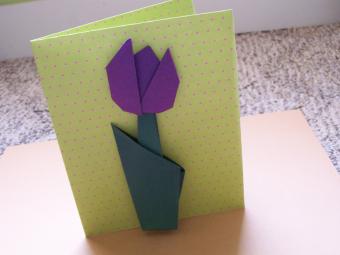 Origami flowers for cards make thoughtful tokens for celebrating birthdays, anniversaries, or other special occasions. A card decorated with an origami flower is also lovely as a thank you note.
Step 1
To begin, cut your origami paper into four equal squares. You will need one square for each flower you wish to make. Fold your square diagonally in half.
Step 2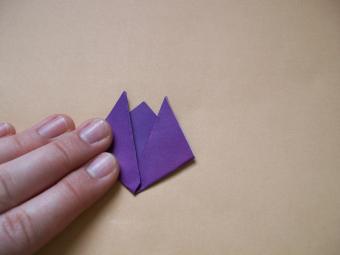 Bring the bottom right corner up and slightly to the right of the top point. Bring the left corner up the same way.
Step 3
Flip the paper over and blunt the corners as shown. When you flip back to the front, you'll have a finished origami tulip.
Step 4
Now it's time to make a stem for origami flowers for cards. Fold your green origami paper diagonally in half. Unfold the paper.
Step 8
Fold the entire model in half down the middle. Pull the stem apart slightly to give it the desired shape.
Step 9
Use glue dots or foam adhesive squares to attach your origami flower to your card.
To make an envelope for your card, please review the LoveToKnow Origami Envelope tutorial.