Easy Origami Crane Card Tutorial
Following this origami crane card tutorial is a fast and easy way to use origami to create a pretty card for any occasion. Use a colorful crane on the front of a birthday card, wedding or anniversary card, thank you card or even just a simple thinking of you card. The crane is a popular figure to fold, and this half fold horizontal card is easy to create.
Step 1
Begin by folding a sheet of paper into a bird base, which is shaped like a long skinny diamond split on the bottom half. The bird base is also known as the crane base.
Note: See the last slide for a link on how to make the bird base.
Step 2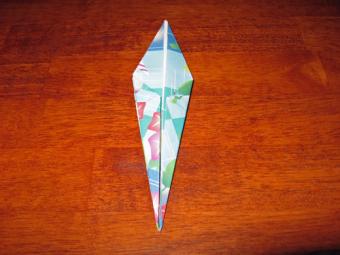 With the split bottom of the diamond of the bird base facing you, fold each side into the center and crease. Flip the model and repeat on the opposite side.
Step 4
Do a reverse inside fold using the crease made in Step 3 on both sides.
Note: See last slide for link to a slideshow with information on how to do the inside reverse.
Step 5
Either fold the top of the right side down and leave it, or fold the top, crease and then reverse to make the head of the crane. Fold the lower wing straight down, leaving the top wing up.
Step 6
Glue the flat origami crane onto a folded 8.5 by 11 inch piece of paper. Choose paper that coordinates with the origami paper.
Step 7
Now you have completed the origami crane card tutorial. Add embellishments to the front of the card, such as stickers, cut outs from additional origami paper, sequins, charms and wording as desired.
For help making the bird base, read the LoveToKnow article Origami Bird Base. Information on making a reverse inside fold is included in the LoveToKnow tutorial slideshow Origami Folding Instructions.