Learn How to Make a Paper Doll Chain
Learn how to make a paper doll chain with these step-by-step instructions and handy template. Making doll chains is a great way to pass the time on a rainy day or create a decorative banner for your home or school. It's also a fun and interactive way to introduce young children to Kirigami, a traditional craft that uses folding and paper cutting to make decorative objects.
There is a printable paper doll pattern in the last slide of this gallery that you can use for your pattern or create your own with these simple steps.
Start By Choosing Your Paper
To begin making a paper doll chain, choose the paper you want. The length of your chain will depend on the length of the paper you pick, and you might also enjoy using a pretty patterned paper.
You can cut a sheet of copy paper in half for a short chain of dolls.
If you want a longer paper doll chain, try cutting a strip of paper from an old grocery bag or a roll of wrapping paper.
For colorful paper dolls, use a piece of scrapbook paper or origami paper.
Draw Your Doll Design
Accordion fold your paper, making the folds as wide as you want your paper doll to be. Draw your design onto the top fold. The arms of the doll should reach all the way to the edges of the top fold. A basic doll shape is fine for beginners, or you can experiment with creative figures like an alien or a monster. You can even make holiday decorations, such as a chain of snowmen or elves for Christmas.
Cut Out the Dolls
Carefully cut out the design you drew, taking your time to make sure your cuts are accurate and even. You'll be cutting through all the folds of paper at once. Remember that you shouldn't cut the ends of the arms or the feet because this will make the chain fall apart.
Unfold the Chain
When you're done cutting, unfold the chain. The dolls will be holding hands with one another! If you have a partial doll on one end of the chain, simply cut the chain off before that doll begins.
Decorate Your Paper Dolls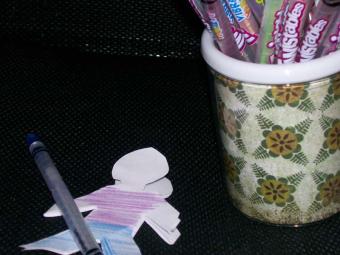 Decorate the dolls as desired. This is the fun part of learning how to make a paper doll chain.
You can use crayons, markers, paints, and other methods to add color.
Glue on lace, sequins, wool, ribbon, decorative buttons, or whatever other supplies you have handy to give your paper doll chain a bit of personality.
Give the dolls paper flowers to hold or other fun props.
Printable Paper Doll Template
More Details"
If you prefer your chain to be precise, print this paper doll template. To print, click on 'More Details' and use either the download or print icon. If you have any issues, see the online guide for Adobe printables.
If you enjoyed cutting out the paper dolls and want a holiday project to go with them, make a kirigami Christmas tree. You can arrange the dolls around it in a circle for a beautiful handmade holiday decoration.